What You Need to Know About AMP on Magento
Ecommerce business owners put a lot of effort into improving their store performance, building marketing strategies, as well as offering the best quality products. Most efforts may be pointless, though, if customers can't access your Magento web store from their mobile device.
We all know that the success of any website is based upon engagement and positive first impressions which are determined by the page load speed as a visitor comes to your online store through search results. That's exactly what you can accomplish with AMP technology. It will help your clients satisfied with excellent store performance and lower bounce rates. Plumrocket AMP Extension for Magento offers you significantly boosted page load time, builds customer loyalty, and helps increase your sales.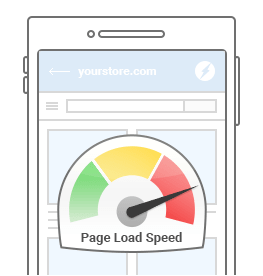 Since this technology is relatively new, store owners often face a lot of questions when they are considering AMP. So let's make it plain and simple. Magento AMP technology is a must-have tool for every store owner who wants to deliver content to their clients swiftly and create the best customer experience ever. Certainly worth considering, right?
Why use AMP Magento Extension?
AMP Magento extension helps website content load significantly faster on all mobile and tablet devices. The main benefits of using Plumrocket AMP module are faster mobile pages (loads 85% quicker than regular web pages) and better visibility in Google Search Results increase site traffic as well as your conversion rates. This will bring more views to your website as customers seek for content that loads quicker, especially on mobile phones.
Why are AMP Pages so Load Fast ?
Your AMP content will appear at the top of the Search Engine Results Page (SERP) as part of the "Top stories" section. AMP uses a simplified form of the HTML structure. Being stripped of resource-heavy elements (such as certain HTML tags, author-written JavaScripts, etc.), it allows your static content to load instantly! A lot of Magento store owners have adopted AMP at the early stages of its development, and the demand is growing rapidly.Google may also display your Magento AMP pages anywhere across the entire search results page marked with special "lightning bolt" sign.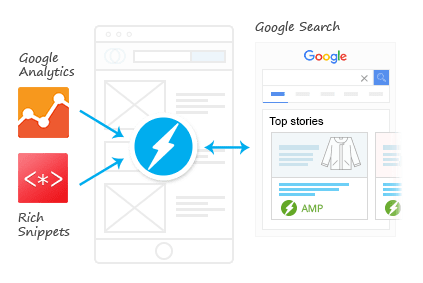 Features
AMP extension for Magento automatically creates separate AMP pages with a simplified HTML structure, to speed up load time.
Your AMP content will appear at the top of the Search Engine Results Page as part of the "Top Stories" section.
Thanks to built-in Google Analytics supported with Magento AMP plugin – you can track all customer interactions with your website.
The extension will automatically add rich snippets to Magento AMP pages.
You can force AMP on mobile devices. This will automatically display an AMP version of your site to all mobile users.
AMP extension is open code, allowing you to modify it as you need.
Can I use it for Checkout Pages?
Pages like Shopping Cart and Checkout are dynamic pages, and they cannot be adapted to work with AMP technology yet. Once Google adds support for dynamic content – Plumrocket will provide customers with an update to the AMP Magento Extension. For now, all dynamic pages will be served as non-AMP pages.
So How Does it Work?
Step 1 – Get AMP Extension for Your Store
Install Plumrocket AMP extension for Magento and enable it from your admin panel.
Enabling the extension will automatically create separate AMP for static content pages (Homepage, Category Pages, Product Pages and CMS Pages, for example). You can select the page types to enable AMP for.
AMP extension does not require any additional configurations or integrations.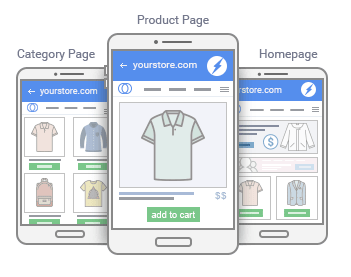 Step 2- Setup Your Color Scheme
Magento Plumrocket Accelerated Mobile Pages Extension was designed to work flawlessly with any third-party Magento theme. Whether it is your own custom theme or a popular one – you can set the color scheme for AMP pages to match the design of your theme. This can be achieved by either configuring the color scheme settings from the admin panel or modifying the extension files.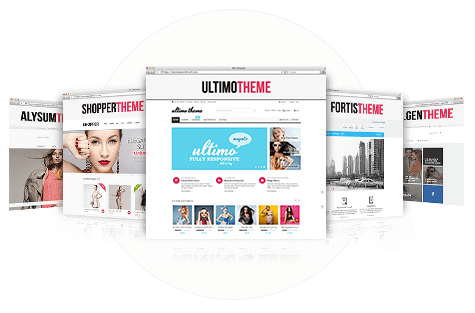 Step 3 – Test and validate
AMP have strict rules for HTML tags. To make sure that your pages fit all the requirements – you can test and validate your Magento Accelerated Mobile Pages. This will ensure that AMP pages are indexed by Google to make your website appear at the top of Mobile Search Results.
If validation is successful – your pages will be indexed properly by Google. You can learn how to test and validate your AMP pages from this manual in Plumrocket wiki.
And that's it! You are all set and ready to enjoy your accelerated mobile store performance. Now your store will stand out in Google's mobile search results as well!